It's About Caring for those who
Who Put Their Lives On The Line Each Day
***** First Responder Lives Matter *******
Thoughts and Prayers for all First Responders and their Families
***** First Responder Lives Matter *******
For over 150 years America has honored their fallen military personnel by decorating the various grave sites with flowers and American flags. This weekend we continue this solemn tradition as Americans honor those who have fallen in defense of the freedom that we each hold so dear. As an extension of the military tradition, we at the Foundation ask that you also pay respects to those men and women of your communities who have fallen as they served as First Responders. In fact often times our First Responders have chosen to also serve our country by enlisting in the military service. This day is celebrated in their memory for the personal sacrifice they each made defending our freedom and liberty. God Bless America.
Our #1 Fund Raiser is BACK...
The America's 9/11 Ride and
8Th Annual AMERICA'S 911 & MILITARY
TRIBUTE BIKE & CAR SHOW (check em out off the charity Events dropdown)

The Foundation's 2017 "We've Got Your Back" Shirts are in
(100% Made in USA) Order yours Today.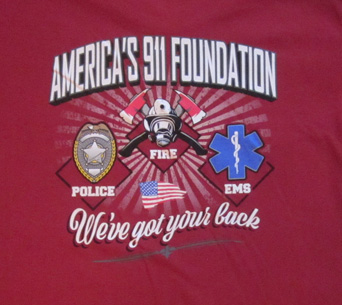 NEVER FORGET!
What Have You Done To Say Thanks